---
More stability and quality, less time to lose with all eyecad VR software
The new eyecad VR Release 1.7.0 has been focused on the stability of the software by improving performance with less crashes. It's very important for us to help our users to go faster with eyecad VR as in Editor as in Viewer.
The most important features of this version are focusing on stability and performance. eyecad VR team has solved many crash and bugs that users had with the previous versions. Now it's time to take a look the the new implementations:
Virtual Reality for Architecture and Real time rendering for Mac is not a dream anymore!
All eyecad VR software are now available for macOS! It has been very hard but our dream is to give the same possibilities to all users with different platforms to improve their workflow and with eyecad VR is now possible to create, renders, video animations, natural and urban landscapes, VR and Desktop explorations with real-time rendering...Easily!
Added more than 40 3D scanned materials into the Free Library. Increase your Rendering production with these awesome materials. Other 3D scanned materials will be loaded very soon. Thanks to the real-time rendering the final result is amazing.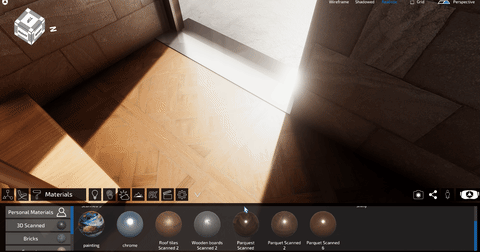 Windows Mixed Reality for Architecture
Windows Mixed Reality is now available for architecture exploration with all eyecad VR software. This is one of the most important news because Windows MR is a great opportunity for Architecture. No external sensors, and just two cable (Hdmi and USB) to immersive yourself into the architectural exploration.
VR Low poly Objects Library
More than 600 VR free objects (ready to render) are now available into the free Marketplace. New categories like the Office Pack and the Modern Pack will add a new style to your renders or interactive scenes for Desktop, Mobile or VR devices.
Rendering quality improved
Rendering quality is now at high levels. Time to rendering pictures in 4K resolution is still 0,1 seconds but we have improved quality, specially for details and lighting. Now every images are taken in Ultra Quality. Keep calm and take renders at the speed of light with eyecad VR!


Terrain Editor. Create awesome architectural landscapes, easily!
The Landscape editor has been improved. It is faster now and with better realistic details. Be sure to turn on 3D grass once finished to model the 3D terrain.
Finally, thanks from users around the world, we have decided to add teleport system in virtual reality. Now it's finally possible to move into your 3D projects using the new movement system. Teleport is very good to go faster and it greatly reduces the motion sickness. Now if explore by walking or by teleporting is just a choice!


Take a look to the log of the new release. Log Software version 1.7:


● Videomaker Tab (Pro only)
- Videomaker was exporting .webm instead of mp4.
- Camera shooting pivot has been fixed.

● Rendermode Tab (Advanced and Pro only)
- When a render was captured, the quality was not in ultra.
- When a render is captured, now the shadows quality is improved.

● Evr Projects
- When a project got saved a message appeared "It was not possible to save the project", has been fixed.
- Resolution scale value was not correctly saved.

● FX Tab (Pro only)
- Reflection Probe had black artifacts.
- Fog color was not based on the sky illumination.

● Marketplace
- Now marketplace icons will be loaded only when they will be visible.
- New 40 3D Scanned materials are now available.

● Go to VR Window
- Now is possible to set the resolution scale before to go to VR.

● Materials
- Now it will be not possible to import more than 150 materials from 3d models, but it will be possible to create more than 150.
- Water shader has been improved.

● Environment tab
- New HDRIs have been added.

● Landscape tab (Pro only)
- Painter size and power has been improved.
- Now is possible to activate and deactivate manually the 3D grass to speed up the work.
- Some terrain textures are been updated.

● 3D Importer
- Rhino unit measure has been fixed.
- 3D Studio Max compatibility has been added.

● Graphics
- Soft shadows have been improved.

● Other
- Preview icons are been improved.
- Some issues, crashes and bugs have been fixed.

● Exploration speed
- Now is possible to move through your project using our teleport system.

● Headset support
- Now eyecad VR Viewer supports the new Windows Mixed Reality headsets.

● Revit and Sketchup plugins are been updated.

Now it's time for VR and real-time Architecture with eyecad VR on Windows and MacOS! Enjoy!
eyecad VR team